Last winter I was really upping my yoga game in an attempt to manage what seemed like never ending exhaustion related to work stress. I did hot yoga 5X a week and felt like the baddest bitch in town. My body shape and size changed dramatically and I had much more energy. However once March/Covid hit, I knew it wouldn't be the same and that my workouts would suffer. Turns out my workouts got better!
Eventually I got into a good routine of doing zoom classes through my yoga studio, Firelight Yoga (which now has an on demand service "Fly TV") and on demand through Alo Moves. Alo Moves has an amazing inventory of short and long yoga routines that rang from vinyasa, hatha, restorative to "how to" skills videos. Alo Moves diversified my yoga practice and gave me the opportunity to work on inversions that typically I would not have tried on my own. I wanted to share my favorite yoga classes with you and go over how they changed my practice!
+For all my Alo Moves routines I do screen mirroring with my iphone onto my smart ROKU TV. I downloaded the iwebtv app onto my phone. All you need to do is type in "alomoves.com" and it will take you directly to the sight and connect to your smart device.
Typically I work out at a hot studio and do variations of sculpt yoga and power vinyasa so these suggestions are for more advanced students. Keep in mind I can't do handstands or the splits to save my life! (Yet).
It's fair to say that Ashley Galvin is the queen of Power Vinyasa and Alo Moves just came out with her best flows yet – The Vinyasa Collection, a 7 part power vinyasa series for yogi's that want to sweat and build their endurance. Below are some of my favorite Ashley workouts.
Wring It Out – via Alo Moves app
This is my go to routine! It's difficult, but not crazy. This 68 minute class has all the basics and its BASIC! Which I like. Some yoga teachers like to pack a routine with odd movements and non-traditional variations which can lead to "head tilt" when a yogi constantly has their head turned up in order to see what the next move will be. You also don't get a "wu wu" vibe with Ashley. Whenever I am trying to get my friends into yoga, I send them an Ashley video first. She's more fitness instructor than pure yogi which often times I am in the mood for.
She starts the session out slow (this is her signature with a long Vinyasa flow) allowing your body to naturally progress into a more intense workout. Initially she works on stretching and solidifying your plank pose. You will then work your way towards a pretty intense Vinyasa flow, targeting the side body and abs.
This is one of her short, but "too the point" (which she has a vast inventory of) flows that's good for when you don't have much time but want to get a good workout in.
Good Vibes – MC Yogi via Alo Moves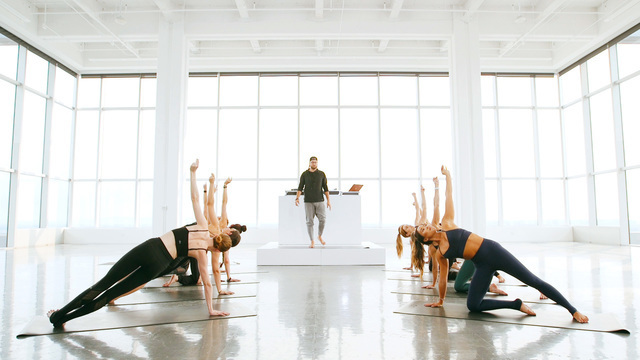 MC Yogi is definitely the ice in the cappuccino, he is smooth, controlled and chill. When I need a chill yoga or meditation practice, he is my go to. Personally I love his chill yogi vibe, but he's not for the fitness freaks. I will say that this particular flow is more difficult than his standard, but its still chill and a bit funny (intentionally) at times. MC puts you in a space where you want to do yoga!
Fly TV is Firelight Yoga Studio's On Demand service. One incredible way to keep a yoga studios going is to create an on demand service so that everyone can practice according to their own schedule. This was a good way for me to give back to my local yoga stdio without breaking the bank! This service only costs 35$ a month which is a steal if you consider that a drop in yoga class ranges from 15-25$
Chelsea's Yoga on Playbook
Playbook is an app ($14.99 a month, first month is only $1.00 / can only download via the app store) where my favorite insta yogi, Chelsea Williams posts flows and tutorials. If you are like me and you are trying to deepen your practice, I find that's its good to follow and practice with several teachers. She also has incredible skills videos, my personal fav is "socks with blocks" which helps you get those splits! She has an incredible flow for those lazy days which she created after her juice cleans, called "Slithery Flow." This is the best workout for those days when you don't feel like doing anything!
Now that yoga teachers are starting to do backyard yoga it feels healthy to be around people again! Considering the state of things I have started to recommend yoga before noon for myself. I was finding that on the weekends my negative thoughts and depressed mood were coming in the mornings just as I was starting my day, which is not normal for me. Yoga in the mornings has helped me to focus my thoughts more and feel more motivated throughout the day. Chelsea has suggested not looking on your phone until you have done your practice for the day. Imagine that, letting go of the phone!
Instagram is also a great way to workout with other yoga teachers around the country. Dallas Yoga Collective has 50 minute workouts on there Instagram that definitely make me sweat!
Most yoga studios and teachers are doing some type of virtual yoga be it zoom, instagram or their own streaming service. This is an amazing time to explore yoga!
Honorable mention goes to:
Carly Harpes and Patrick Beach –
This husband and wife yoga duo are the intellectual yogi's with new and intricate moves each class, I definitely get the head tilt from their classes but for the more advanced (handstands/ inversions oh my!) students they are good teachers with a vast amount of knowledge. They do classes through Alo Moves and they offer zoom classes through their studio Commune Yoga.
This guy is nuts and a former marine!
Enter the Dragon Flow (as one would imagine) is also a bit nuts, but if you are looking for an intense flow this would be it!
What are your favorite workouts?